1940 Dodge from Aqaba to Normandy 2004
The intention to visit Normandy in France for the 60th anniversary of the D-Day landings soon developed into a plan to take a vehicle to join the other 3,000 restored vehicles assembling for the ceremony.
The decision was made in February and a few calculations put the latest shipping date in late March – not much time! If I was going to go to all this trouble I wanted an Australian vehicle to take, not another American truck to add to the thousands already there. Numerous phone calls around Australia soon found an original 1940 Dodge Staff Car in Adelaide. It had been in the Military Vehicle Museum for many years but was supposedly a goer.
I jumped on an aircraft on Saturday morning from Brisbane to Adelaide. John Biddle had it in his yard and although it was painted up in US colours it was complete and running and looked just the shot. We worked hard all day Sunday to get the car roadworthy for the first time in a decade. The main work was replacing the wheel brake cylinder rubbers. First thing Monday morning I had the Dodge at the tyre dealer for new tyres then, after a quick trip to the motor registry for a numberplate was out of Adelaide by lunchtime. Fingers were crossed that an unrestored car that had not driven for a dozen years would make it. About lunchtime on Wednesday after a 2,000km drive I arrived trouble-free in Brisbane!
A furious couple of weeks followed and the Dodge was reupholstered, wheel aligned, spring set and painted in its original 1940 desert colours (we found this colour the first layer of 14 coats of paint including those of its period as an Adelaide taxi in the 40's). It was put in a box and consigned to the Middle East – Aqaba, Jordan. RACQ helped greatly with the expensive international travel carnet costs, Personal Plates Queensland generously supplied the appropriate number plate, DDI 944 and an unexpected donation from the Military Jeep Club of Queensland paid for the original Australian Army markings sign-writing.
Six weeks later I arrived in Jordan on a flight from a job in USA, Bev arrived from Australia and our old pal Glen Porter, arrived on a flight from Egypt. All three of us were hoping for a great adventure.
I had a few problems getting the container released from the dock in Aqaba but around midnight, after a day spent running around the wharves, I managed to find a truck driver amenable to a donation to his favourite charity. A couple of deft changes of container numbers on his paperwork saw my box on the back of his truck and out the gate. Our great friend, Ghazi Sadoun, the lead pilot in the Royal Jordanian Falcons Air Force aerobatic team, was a fantastic help providing transport and advice.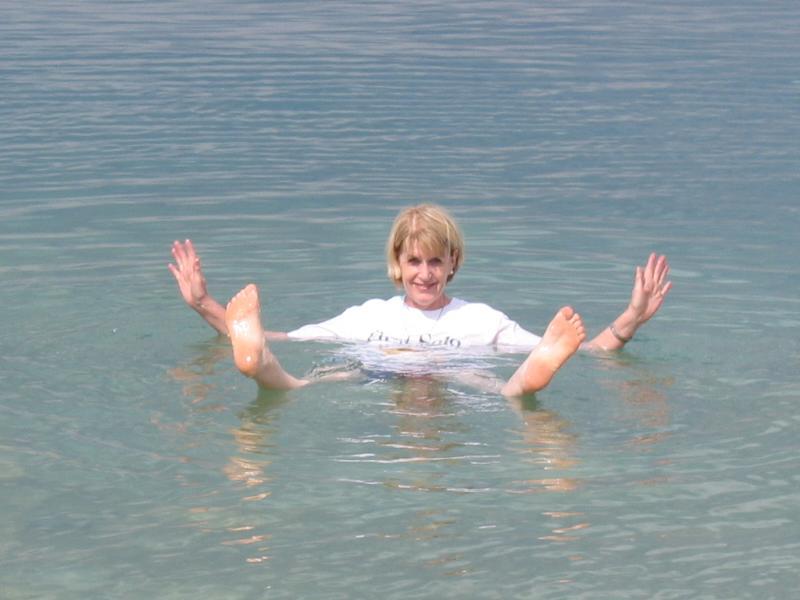 Right from the start a 1940 Dodge in full military colours drew attention. I was initially going to cover all the military stuff up but thought "What the heck, may as well be hung for mutton as for lamb." So we set off in all our 6th Division AIF glory. The reception could not have been better. We had our information sheet hung in the window, translated into eventually 5 languages, so everybody always knew what we were doing.
A great time was had in Jordan, probably the friendliest country of all that we visited. A drive out to the desert to Wadi Rum (Lawrence's camp), was followed by a night in the fabulous lost city of Petra and of course Bev insisted on getting the classic photo of her floating almost out of the water in the Dead Sea.
Crossing the border into Syria (part of the "axis of evil"!) was a non-event. Everybody was more interested in the car than the paperwork. We were in the fabulous souq (bazaar) in Damascus when somebody threw a bomb near the Australian Embassy but we did not find out for 3 days. The main impression, in a land flooded with fabulous crusader castles and Roman amphitheatres, was from dozens of people stopping us in the street and hanging out of car windows on the highway calling "Welcome to Syria". I saw more guns and police in USA than in Syria.
Turkey was a fantastic visit. The huge mountains presented no problems to the 64-year-old Dodge and she just plugged on. We became the centrepiece of an ANZAC celebration in Goreme in Central Turkey where an amazing town is built right into the unusual sandstone hills.
Eventually arriving at ANZAC Cove on Gallipoli at 0730 one morning, we had the place to ourselves. Glen and I spent several hours climbing to the heights while Bev sat on the deserted beach listening to the waves. A great experience.
Istanbul lived up to its promise with Topkapi Palace, amazing bazaar and scuttling ferries. Once again the Dodge created a sensation (we were nearly run off the road by a car driven by a journalist trying to stop us and our photo subsequently appeared on the front page of a major morning newspaper). The hotel owner gave us a mighty discount in exchange for parking our car out the front to attract the crowds.
Here we had our only breakdown – a flat tyre that, after an hour's work and eventually a new tube, cost $3.
A pleasant drive through Greece, including a day driving around the rugged island of Thassos (ferry each way), saw us boarding the overnight ferry in Iguamanitsa for Brindisi in Southern Italy.
We were visiting our old supporter Contessa Maria Caproni (daughter of the famous aircraft designer) in Rome and went out to the car to find a fellow photographing every inch of it. He insisted I talk to somebody on his mobile phone and the upshot was we found ourselves following this character across Rome to an underground garage. There before us was the most spectacular collection of 30's and 40's cars being worked on by uniformed mechanics. Nicola Bulgari (of watch, jewellery and perfume fame) had just happened to drive past Maria's house, saw the Dodge, and sent his man back to grab us.
Ordering his man to cancel our bed and breakfast hotel booking he placed us in a nearby 5 star hotel, organised for a 3-hour tour of Rome in a limo and shouted us a fantastic dinner at the best restaurant in Rome. Next morning another driver took us 2 hours south of the city to near Naples where we spent the morning at a museum with a huge collection of military vehicles (amongst other things). On return to Rome we found the car washed and serviced then followed a mechanic through all the short-cut streets to the main highway north. Thank you, Nicola. It would not have happened if we were in a Landcruiser!
A couple of days later we were driving along the shores of Lake Maggiore in beautiful northern Italy. We approached a fantastic huge Victorian hotel with sweeping lawns spreading down to the lake. Seeing crowds of people, we slowed down and saw the lawns were covered with a huge number of vintage cars so we decided to stop to have a look at the Northern Italy/Rotary Club annual rally. Within minutes we were ordered into the grounds and parked right at the front. The crowds left the other cars and swarmed around the Dodge. They thought it very amusing that our information sheet (written in Italian) referred to certain Italian/Australian activities in Lybia in 1941.
We were hustled inside for the huge sit-down lunch with flowing gourmet food and wine. The speeches naturally, were in Italian, as the prize-giving commenced. Suddenly there was a huge surge of applause and people were shouting at Bev and me to go up to be presented with the beautiful trophy for "Longest Distance Travelled".
The climb out of Italy into the Swiss Alps would have tested any car but the Dodge just purred away in second gear right up into the snow-covered mountains. Once again Bev had to have the obligatory photo so we stopped at the top of a pass and built a snowman on the front of the car. And so we went on, right through Switzerland and across France. A visit to Verdun, the site of the greatest battle in the history of the world (more than half a million French and Germans killed) really brought home how insignificant an individual is in this life.
A 4-day hop across to the Overlord military vehicle show in England was followed by a return to France for the Normandy celebrations. Others will tell that story but suffice to say, with over 3,000 world war two vehicles driving around, the Dodge, in its distinctive Australian desert colours, was the most photographed vehicle on the block.
We visited a small town for a ceremony to honour the Australian and New Zealand Typhoon pilots and met the New Zealand and Australian Prime Ministers. John Howard became very excited when he saw the Dodge because his father had an identical shape Plymouth of the same model. Bev was filming him in the car when his wife said at the top of her voice "Would you buy a used car from this man?"
Lang Kidby
There is a great difficulty translating Arabic into Western spelling ( Lawrence spelled his name three different ways in his book.) Wadi Rum, Waddi Rumn, Wadde Ram were three of the different direction signs I saw in Jordan on the highway.
Likewise the spelling of Souk or Souq (market or bazaar). The city Aleppo – the last objective of the Australian Light horse in 1918