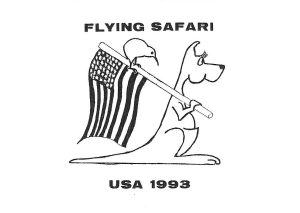 In 1993 Lang and Bev organised a flying trip around 18 states in USA over a three week period.
Their friends Mark and Patty Reboltz who live near Phoenix, Arizona were able to hire seven small planes out of their local airfield and a group of eighteen people from Australia and New Zealand headed for the USA joining up with them for an unforgettable "fly yourself" trip.
The trip started out of Phoenix the first stop being the glitzy town of Las Vegas after flying the length of the Grand Canyon. The next stop was Georgetown in California where the locals treated everyone to a very warm welcome and billeted the twenty participants with local families.
Next destination was McMinnville in Oregan with the opportunity to inspect the impressive Spruce Goose mothballed under huge covers. From Oregon the next stop was Seattle Washington where the group visited all the fascinating tourist destinations the town has to offer.
The intention was to fly along all the northern sates bordering on Canada but the USA had been experiencing some really bad weather so the group were forced to change plans and fly further south. The next stop was Walla Walla, Washington, and from there over night in Idaho Falls, Idaho and the next day onto Laramie, Wyoming.
The Mississippi River was in flood and provided a spectacular sight from the air. After the night at Winona Minnesota the seven aircraft flew into Appleton in Wisconsin. Here we were accommodated at the Appleton University a short bus trip to the annual Oshkosh Airshow (10,000 aircraft) where we spent the next few days.
From Oshkosh the group headed south dodging thunderstorms staying overnight at Demoines, Iowa then on to Topeka, Kansas where they were treated to some hilarious pig races at the local fair.
In Amarillo Texas everyone visited a pioneer village and from the air saw the Palo Duro Canyon. The next and last stop was White City New Mexico where the group inspected the Carlsbad Caverns.
From there we arrived back at the airport in Phoenix Arizona.
In all 18 states, 50 flying hours, covering 10,000 kms, a few heart in the mouth type moments but lots of fun and everyone finished unscathed.