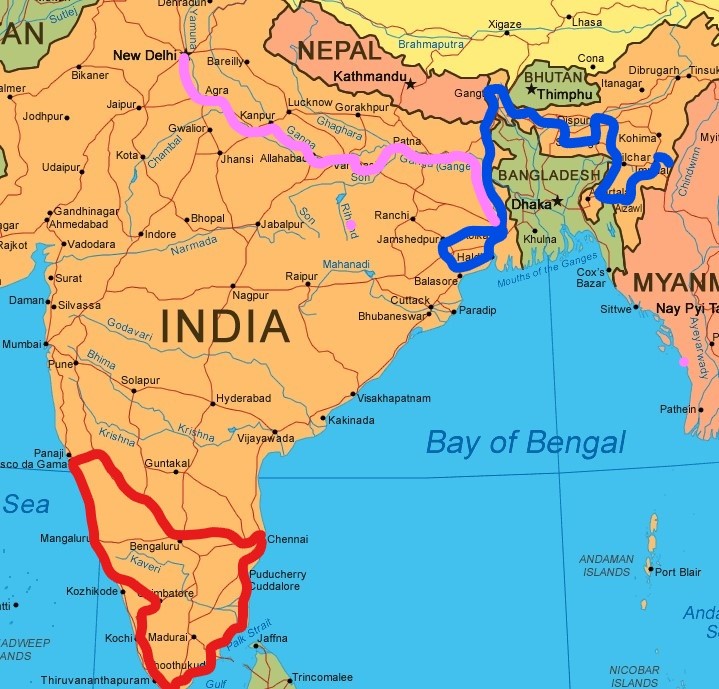 In December 2022 Lang and Bev set out on a 3,000km drive around Southern India. This is the blog page which will be updated regularly throughout the trip. You are invited to follow along with us on our adventure.
Blue Line: 2019 North East to Burma Border Adventure
Pink Line: 2021 Electric Boat Trip Down the Ganges Survey.
Red Line: 2022 Southern India Expedition
28 Nov 2022
Well, Covid is retreating and the world is returning to normal. Where to next?
After looking at 200 countries and numerous half-planned adventures still in our pipeline we found India calling once again. We have driven many thousands of kilometres and flown light aircraft in India but always in the north. How can we have missed half of one of the world's most interesting countries?

Driving long distances in India is not easy, in fact, it is so challenging that relatively few Indians undertake thousand kilometre journeys and you can spend weeks on the road without sighting a single foreign driver. With our usual "bite off more than you can chew, then chew like hell" approach we devised a 3,000km drive around the whole southern Indian peninsular.

It will require some very long days on poor roads and outrageous video-game traffic. Taking 10 hours to cover 300km has happened to us more than once. But the scenery, history and, most importantly, the people make it all worthwhile. We always say that Indians, no matter how badly off compared to many others, accept their lot in life with a calmness and equanimity never found in the west or even other parts of Asia. Instead of railing against their lot you can see the kids in dirt-poor villages going to school in immaculate uniforms.
The older kids in high school have a vision of where they want to go and in one lifetime India has risen from a colonial fiefdom to one of the technological and manufacturing power-houses in the world – all while remaining a stable free democracy.

Nothing would have happened without people with aspirations and drive, willing to take a risk to create some of the greatest companies in the world. One of these "doers" is Dr Jairam Varadaraj, of ELGi one of the most important compressor manufacturers and innovators in the world. On hearing of our expedition he immediately contacted us and said "This adventure fits well with our philosophy of "Dare to be Unique" and they would like to partner us on the trip.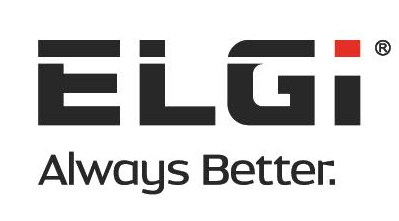 ELGi Equipments is delighted to support Lang & Bev's South Indian Expedition #DareToBeUnique
ELGI EQUIPMENTS LIMITED is a global manufacturer of air compressors, with a portfolio of over 400 products that serve a wide variety of applications across multiple industries in over 120 countries.
Founded in 1960, ELGI has earned worldwide accolades over the years for designing customer-centric compressed air solutions that are sustainable and assist its customers in achieving their productivity goals while ensuring a lower total cost of ownership.
ELGI believes in pushing the boundaries every day in its quest to be "Always Better".
Learn more about ELGi in India (hyperlink underlined to: https://www.elgi.com/in/)
Learn more about ELGI in Australia (hyperlink underlined to: https://www.elgi.com/au/)

As a result we will not only have an adventure but be working with people who can open doors for us. Most importantly we will meet a wide range of people from ELGi workers and management (we are giving talks and meeting ELGi staff and customers along the way – and in Australia) to friends of friends as always in India that result in lifetime association.

We start in Chennai (the old Madras) 07 December returning 27 December. The blogs of our trip will come up as possible every day or so.
30 Nov 22
Today Bill Davis and Stephen Dilworth of ELGi Australia gave us a send-off from their Brisbane branch.