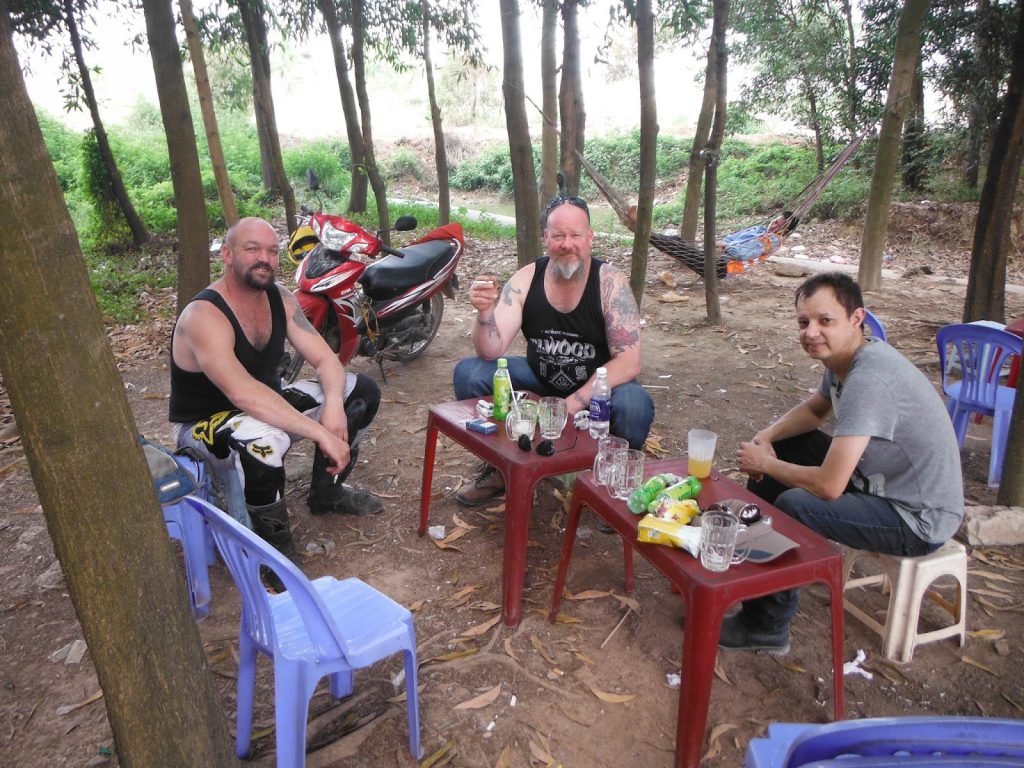 After meeting an old friend, Mike Baker, in Bowen I was invited to join him on a week long motorcycle trip in Vietnam through the mountains on the China border accompanied by his son Cal and mate Dan from Adelaide.
We arrived in Hanoi and went to the Mototours Asia shop to be issued with bikes and meet our guide, a pleasant young fellow named Quin. Here we also joined up with two local residents in the form of Niko, an Italian and Manu, a Frenchman.
The traffic in Hanoi is not too hectic but the roads are infested with small scooters and motorcycles operating on the no-rules, just keep moving principal found in most Asian countries. The bikes we were issued with were two Indian built Royal Enfield 500's and the rest Honda/Suzuki 250cc enduro bikes. It turned out that the comfortable but heavy plodding Enfields were quite unsuitable for the difficult tracks ahead. The enduro bikes were old and poorly maintained but we managed with worn tyres, poor brakes and no rear shock absorbers.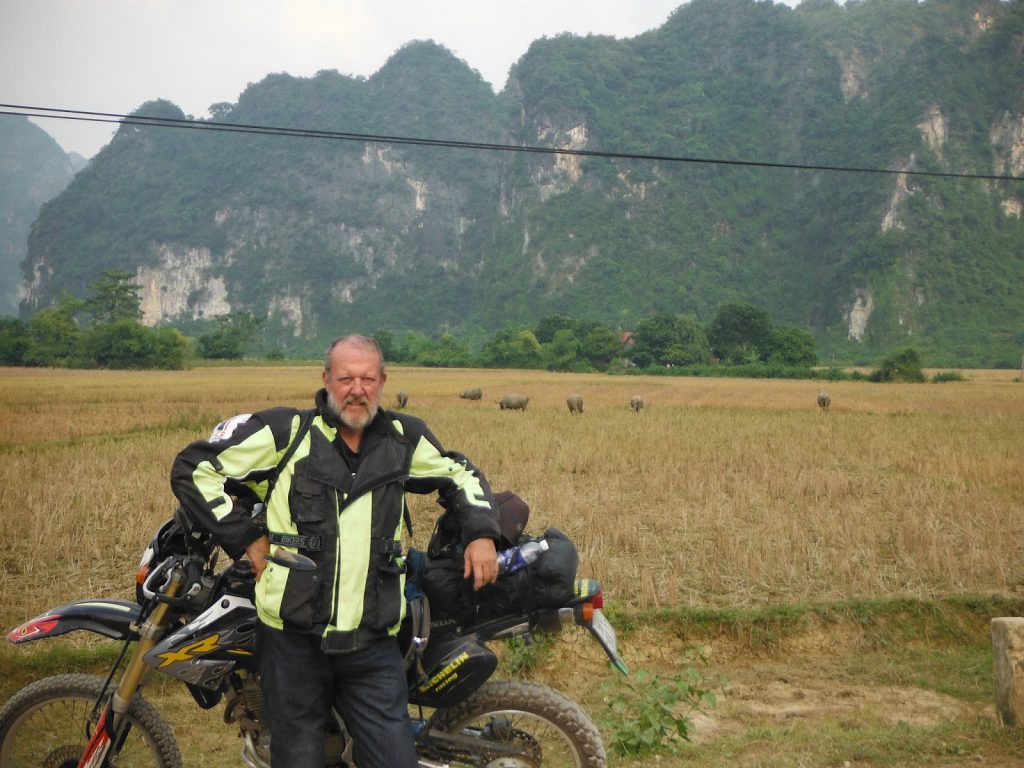 Heading north out of Hanoi we were soon into the most beautiful picture post card country with vertical limestone pinnacles covered in jungle with terraced rice paddies in the narrow valleys. We had a bit of excitement when Mike confronted a truck on a narrow bridge (we were off the main road on gravel byways by this time). He grabbed a bit much front brake and was slammed down on the road from his Enfield resulting in a few scrapes and bruises.
Eventually arriving at our destination, a traditional house in a small village, we were treated to a great night in Bac Son. One large room dominated the wooden building and we set up our gear on what was basically a 7 man bed with individual mosquito nets. The host family went out of their way to provide a wonderful meal accompanied by cold beer and the everpresent home brewed powerful rice "wine". Those who could, sat cross legged on the floor while the rest of us sprawled in whatever position we could twist our legs.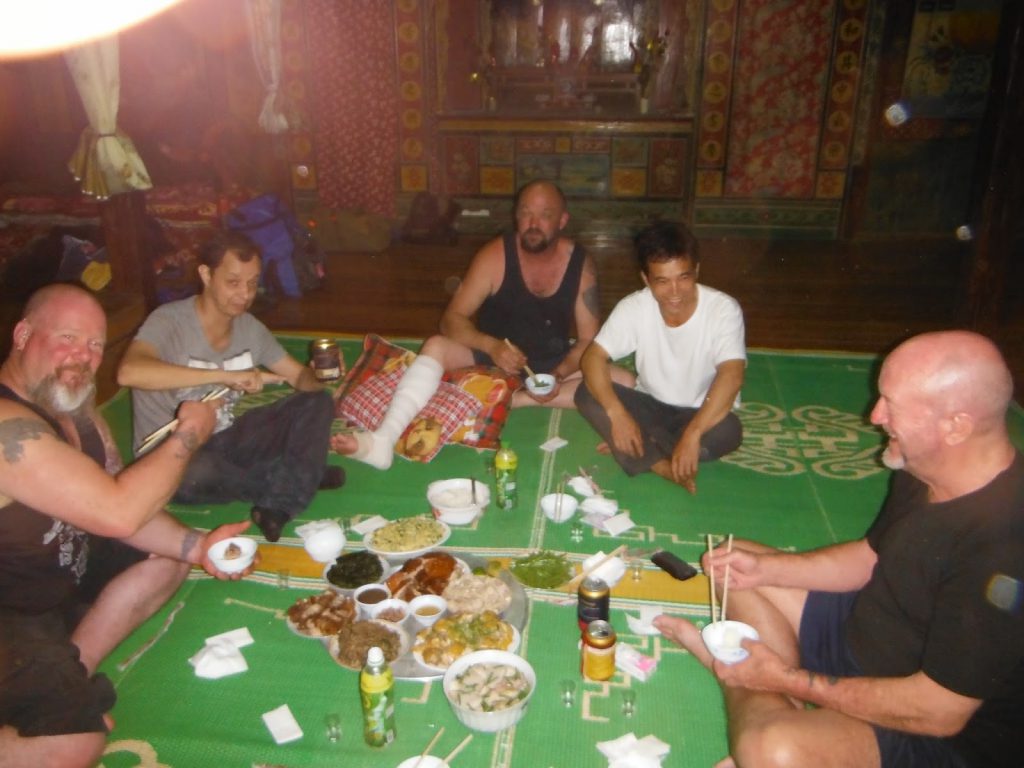 Cal, whose legs had swollen on the flight from Melbourne had not improved and was looking in a bad way. He was driven back to Hanoi where he continued to deteriorate so was flown out to the American Hospital in Bangkok. I dumped my Enfield and took over his trail bike while Quin took the Enfield giving Mike his much more agile trail bike.
The following days were filled with outstanding riding along narrow cliff top trails, crossing rocky rivers (drowned bikes) and being carried on bamboo rafts across wide rivers. We were way off the beaten track away from towns. The tracks at times were very precarious no more than a metre wide with 500 metre vertical drops off the side. The scenery was spectacular.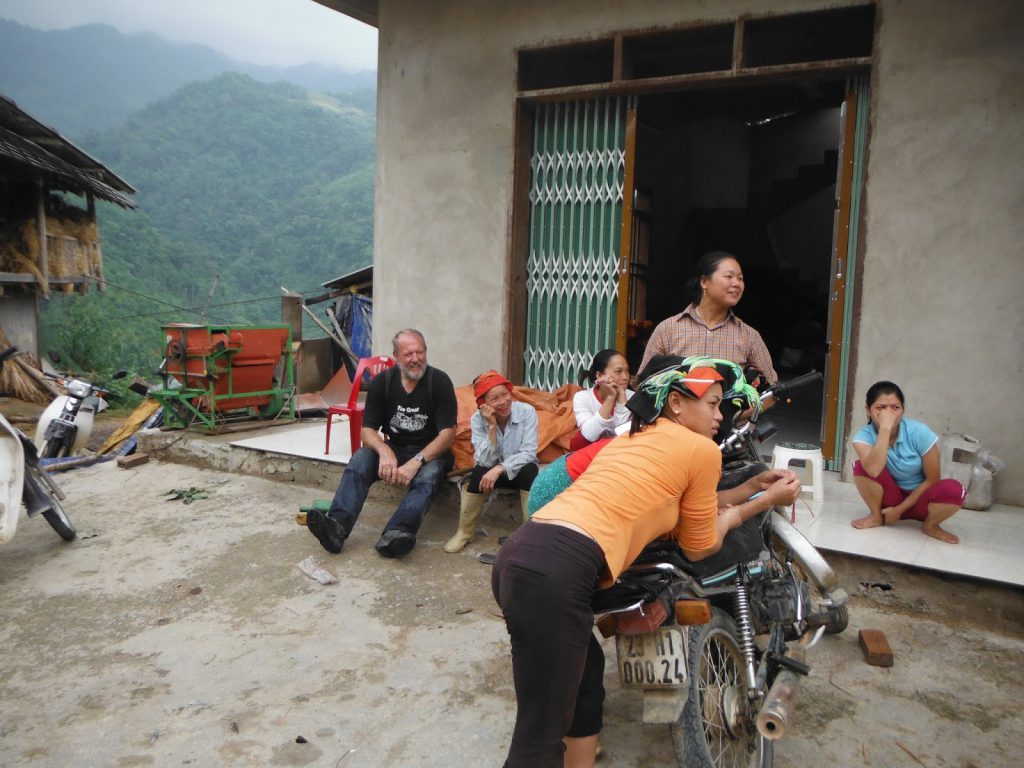 We took a boat ride on Ba Be Lake along the "Apocalypse Now" style jungle lined river in misty conditions to where the water has cut a hole right through the mountain. There were more home stays, more rice wine and lots of parting company with our bikes. My worst injury is a sprained ankle though Manu broke his wrist on the last day but managed to ride to the finish. I think I might be getting a bit old for this enduro riding stuff.
The last day we were way out there right up on the China border. The hills are extremely rugged with few flat valleys. Right on top of a mountain we came upon an ethnic Hmong people market. The women all were dressed in the finest traditional intricate costumes. I particularly liked the used water buffalo market where the spiv salesment tried to convince the hoof-kickers to buy this particular model which had only ploughed 500 acres.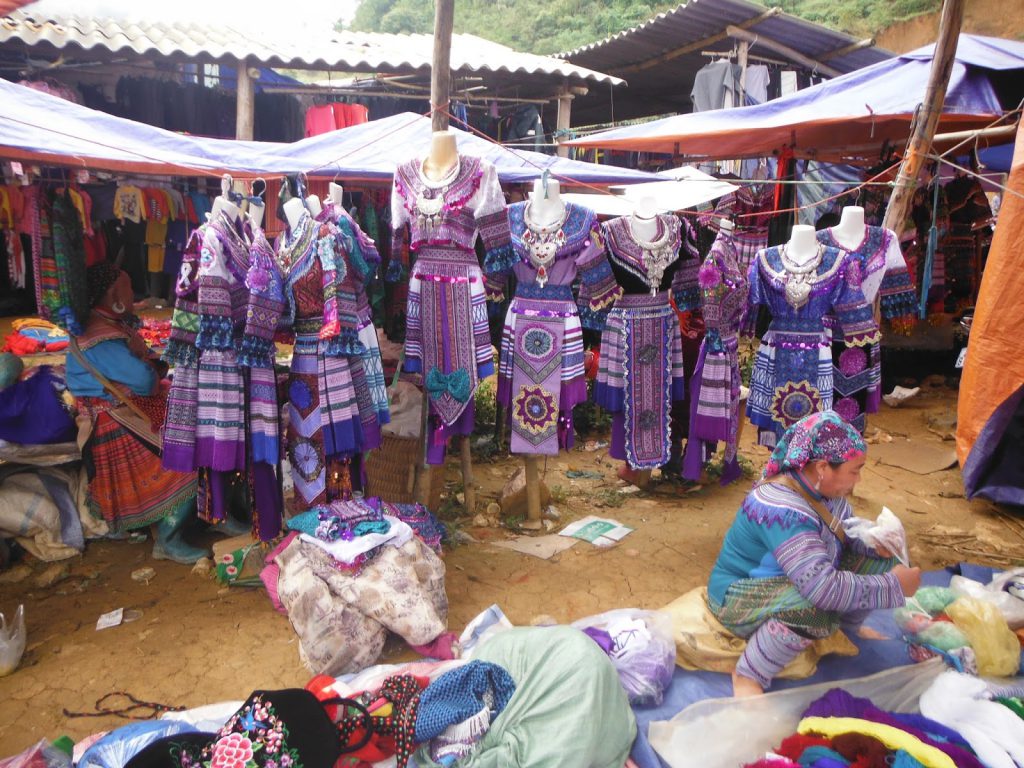 We finished in Lai Cai, a large town on the Chinese border and the end of the only rail line running to the north. We loaded the bikes on the train and had a comfortable trip in sleeping berths overnight back to Hanoi.
All in all a great trip mostly away from towns and traffic with quite a bit on foot or bike tracks devoid of any 4 wheel vehicles. The people were friendly, the villages were filthy (probably on average worse than other Asian countries) but the bigger cities OK, the scenery was spectacular.